Stanford Recordings Released in 2016
Stanford String Quartets Numbers 5 & 8. (SOMM CD0160.)
Stanford Recordings Released in 2015
Stanford Piano Trio No. 2 in G minor Op. 73 and Piano Quartet No. 1 in F, Op.15. The Gould Piano Trio and David Adams (viola). (Naxos 8.573388.)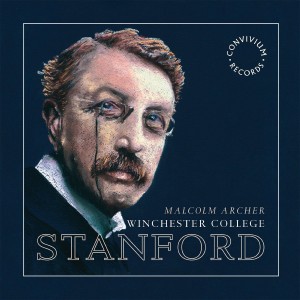 Stanford Sacred Music. The Winchester College Chapel Choir directed by Malcolm Archer. (Jamal Sutton, organ).  This CD includes premier recordings of Watt's Cradle Song, Come Ye Thankful People Come and If Ye Then be Risen with Christ together with eleven other Stanford sacred works. (Convivium Records, CR 027.)
Stanford Recordings Released in 2014
Stanford, Irish Songs – 19 song settings by Stanford to texts by Alfred Perceval Graves. Maria Tolle (soprano), Daniel Gerlach (piano). (GEMA, CD 021021). (Available from Amazon)
Stanford, Mass in G major, Op.46. plus choral works by Parry and O'Neil. The Choir of Exeter College, the Stapleton Sinfonia, with soloists; conducted by George de Voil. (EM Records, EMR CD 021).
Stanford, Violin Concerto No.2 in G minor Op. 162 ; Milford  Violin Concerto in G minor, Op.47.  BBC Concert Orchestra, conducted by Owain Arwel Hughes , Rupert Marshall-Luck (violin). (EM Records, EMR CD023).
Stanford String Quartet No.1 in G major, Op.44; String Quartet No.2 in A minor, Op.45; Fantasy for Horn Quintet in A minor; RTE Vanbrugh Quartet. (Helios, CDH 55459). This is a reissue of a Hyperion recording.
Canticles from St. Paul's Cathedral; a programme of English church music including Stanford's Evening Service in B flat, Op.10. The Cathedral Choir conducted by Andrew Carwood. (Hyperion, CD A68058).
Stanford Organ Works Volume II. (Resonus) Simon Nieminski (organ). The recording includes several Stanford organ works including the Organ Sonata No. 1, Op. 149. (Resonus, RES 10130). Available on download only. See the www.resonusclasics.com website.
An Irish Idyll. A piano recital of Irish music by Duncan Honeybourne including works by Stanford, Rosenthal and Beckett. The Stanford works are the Ballade in G minor, Op.170; and the Nocturne in G minor, Op.148 No.1. (EM Records, EMR CD024).
Stanford Complete Organ Works Volume 2. Daniel Cook on the organ of Durham Cathedral. This is the second volume in Priory Records' survey of Stanford's complete organ works. This disc includes the Organ Sonata No.3 in D minor, Op.152 and the Six Preludes and Postludes Set 1 Op.101. (Priory Records, PRCD 1106.)