Recommended  recordings of  Stanford's music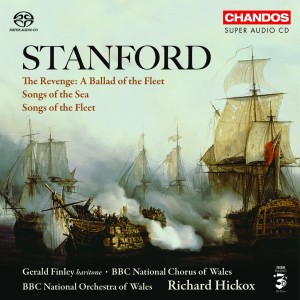 1.  The Revenge, Op. 24; Songs of the Fleet, Op. 117; Songs of the Sea, Op. 91. Gerald Finley (baritone); BBC National Chorus of Wales and BBC National Orchestra of Wales / Richard Hickox. (Chandos CHSA 5043)
The late Richard Hickox was a strong advocate of Stanford's music and this is one of his best recordings, featuring three of Stanford's most popular choral works. Gerald Finley is a committed soloist and the BBC Wales forces are on top form. Add in an outstanding recording which won a Gramophone award and you have a disc which ought to be in the collection of every lover of Stanford's music.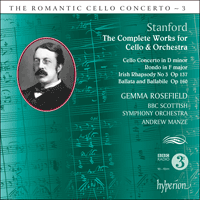 2.  Cello Concerto in D minor; Rondo in F major for cello and orchestra; Ballata and Ballabille Op. 160; Irish Rhapsody No. 3. Gemma Rosefield; BBC Scottish Symphony Orchestra / Andrew Manze. (Hyperion CDA 67859)
Hyperion has released a large number of recordings of Stanford's music during the past twenty years. This disc of all his music for cello and orchestra, which includes two first recordings, is a real winner. Gemma Rosefield gives excellent performances of all these works ably supported by Andrew Manze and the Scottish Symphony Orchestra. First class recording.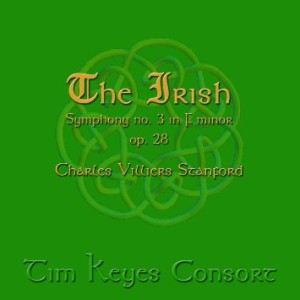 3.  Symphony No. 3 in F minor (The Irish); the Tim Keyes Consort/Tim Keyes. (API 9020).
This was the symphony that earned Stanford his international reputation and for many years was regularly played at concerts in both the UK and overseas. Gustav Mahler conducted it with the New York Philharmonic in 1910. This recording is by an orchestra based in Princeton, New Jersey in the US.  They give a very energetic and fresh performance conducted by Tim Keyes. Excellent recording.  (Available from Amazon)
Recordings of the complete (seven) symphonies are available on both the Chandos and Naxos labels.
4.  Piano Concerto No. 2 in C minor Op. 126; Concert variations upon an English theme " Down among the Dead Men", Op. 71. Finghin Collins(piano); RTE National Symphony Orchestra/ Kenneth Montgomery. (Claves 50-1101).
The Second Piano Concerto was written in 1911 and Stanford planned to conduct its premier during a visit to the United States in 1915. He was to receive an honorary doctorate at Yale and conduct concerts in Connecticut, Boston and New York. Following the sinking of the Lusitania, on which he and his wife were booked, the trip was cancelled although the premier of the concerto went ahead. It is one of his most successful concertos and is given strong advocacy here by the young Irish pianist Finghan Collins who brought the work to the "Proms" for the first time.  "Down among the Dead Men" is an attractive work based on an eighteenth century English drinking song and refers to empty bottles in a pub or bar. Highly recommended.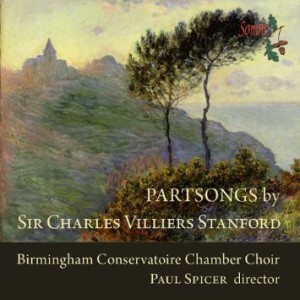 5.  Partsongs. This CD includes recordings of 25 of Stanford's partsongs including the complete Op. 119. Birmingham Conservatoire Chamber Choir directed by Paul Spicer. (SOMM  CD0128).
Stanford wrote more than one hundred partsongs including the set of eight which comprise Op. 119 included on this disc. This is the first CD to focus exclusively on his partsongs. Paul Spicer, one of the UK's leading choral conductors, has chosen a varied program of this material which is given an excellent performance by his outstanding choir.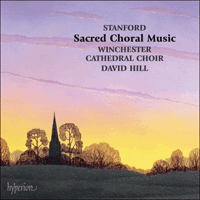 6.  Sacred Choral Music. Winchester Cathedral Choir / David Hill. (Hyperion CDS44311/3)
Stanford is best known today for his sacred music and this 3 CD collection brings together the major works on which his reputation is based. The American Record Guide commented on these recordings "Hill and the Winchester Choir are superb. The performances are vivid and exciting yet carefully nuanced."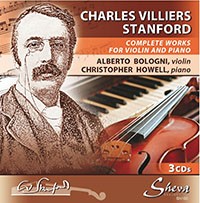 7.  Complete Works for Violin and Piano. Alberto Bologni (violin); Christopher Howell (piano). (Sheva Collection: Sh 100).
Stanford wrote a great deal of chamber music and it is good to have all the pieces for violin and piano collected together on this 3 CD set. Christopher Howell has recorded several previous discs of Stanford's music for Sheva and he and Alberto Bologni give committed performances of all these works. There are several first recordings.
8.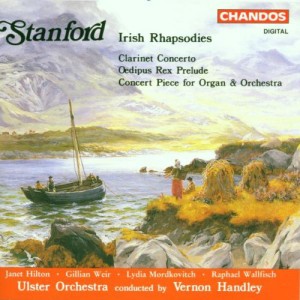 Irish Rhapsodies No 1 to 6; Clarinet Concerto in A minor Op.80;Concert Piece for Organ and Orchestra, Op.181; Oedipus Rex Prelude Op. 29. Ulster Orchestra / Vernon Handley. (Chandos; CHAN 7002/3)
The Irish Rhapsodies are some of Stanford's most successful works. Number 3 is a small concerto for violin and orchestra and number 6 is a one movement  concerto for cello and orchestra while the rest are purely orchestral. These recordings were made as fillers for Handley's recordings of the seven symphonies with the Ulster Orchestra. They are now released in an attractive two CD set with the popular Clarinet Concerto and Concert Piece for Organ and Orchestra plus the Oedipus Rex Prelude. Highly recommended.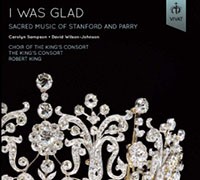 9.  Sacred Music of Stanford and Parry. Choir of the King's Consort; The King's Consort / Robert King. (Vivat 101)
This was the first recording issued on the Vivat label and contains orchestral versions of three of Stanford's best known sets of canticles as well as popular music by Hubert Parry, Stanford's colleague at the Royal College of Music. The recording and performances were highly praised by the critics.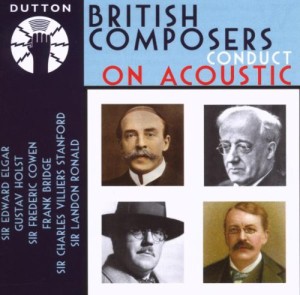 10.  British Composers Conduct on Acoustic. Stanford conducts his Songs of the Fleet Op. 117. Harold Williams ( Baritone) London Symphony Orchestra. Plus other British composers conducting their own music. (Dutton CDBP 9777)
Stanford was well known in his day as a conductor and held major conducting appointments including at the Bach Choir, the Leeds Philharmonic Society and the Leeds Festival. He made very few visits to the recording studio. This is the only significant recording that he directed that is currently available on CD. It is interesting as a historic document. "Farewell", the last song in the cycle and the last work he ever recorded became very popular during the First World War.